Palliative care advice line now open seven days a week
30 August 2023 | View all news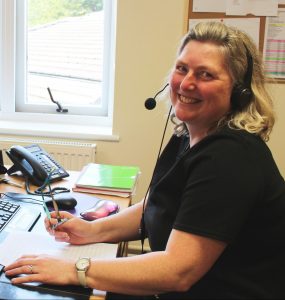 Katharine House Hospice palliative care advice line will be available seven days a week from September, between the hours of 9 am to 5 pm.
Anyone with a palliative diagnosis, patients, carers, relatives and healthcare professionals can call for advice and support.
You can also now be referred or self-refer to our palliative care services.
Our lead nurse, Carina Lowe, said: "We are delighted to extend our advice line to seven days a week and to now take phone referrals to our services. We want to be there for every family who need our care, yet every day in mid Staffordshire many people with a palliative diagnosis do not know we could help them.
"From day one of diagnosis we can help. From symptom management, counselling, social sessions and wellbeing courses, to complementary therapy including massage, aromatherapy and other treatments to help you relax and sleep better, we have lots on offer and as a charity, everything is free."
Our advice line is manned by our Patient Pathway Team and our Palliative Care Nursing Specialists who offer expert palliative care advice and support to:
anyone with a palliative care diagnosis and their loved ones
healthcare professionals supporting a palliative patient.
How can we help?
We support palliative patients and their families and loved ones from day one of diagnosis.
Our team are local experts in providing quality, compassionate palliative care.
We now also take phone referrals from patients and healthcare professionals.
Where?
We offer care and support at our Therapy & Wellbeing Centre
Care in the community and in your home
Care on our wards.
Any day between 9 am and 5 pm.