Our families often ask us if they can have a memorial for their loved one at the hospice, and we have not been able to offer this until now. We know that your loved ones are forever in your heart, and we wanted to give you the option of having a tribute to them within the Hospice grounds. This stunning piece of art is inspired by the love that we see every day.
The Heart of Memories sculpture is a new and unique opportunity for you to share what made your loved one special to you, and to form part of a lasting tribute, here within the Hospice gardens.
An impressive, bespoke sculpture, Heart of Memories is handcrafted by local sculptor Neil Wood, in the highest quality stainless steel. A heart was chosen quite simply because it is the universal symbol for LOVE and this stunning piece of art is inspired by the love that we see between our patients and their family and friends every day.
Inside the distinctive 2m x 2m, 3D structure will securely hang 600 engraved steel hearts. Each of these hearts will hold a unique memory of someone who is deeply loved and missed. We would like to offer you the opportunity to dedicate a heart to your loved one(s).
Dedicate a heart to your loved one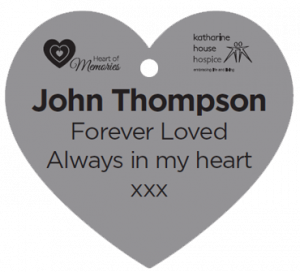 In return for a donation to support our vital services, you will be able to dedicate a beautiful stainless steel heart. Inscribed with the name of your loved one(s) and a personal memory or message, the heart will hang securely on the sculpture. You will also receive a commemorative card.
Once the sculpture has been installed and the smaller personalised hearts have been attached, you will be invited to come and view the sculpture; and you will receive information about how to do this once you have made your dedication and donation.
The deadline to send your dedication and donation is Friday, 24 June 2022. If you have any questions, please call fundraising 01785 270808 or email fundraising@khhospice.org.uk.
Thank you for your continued support; it really is appreciated and makes such a big difference to local families.
At the end of the time period selected (12mths or 3years). You will be given the choice to keep your heart on the sculpture by making a further donation or to have the heart sent to you to keep.
* If you select to donate via a Direct Debit, your heart will be yours after the 12 payments have been  completed or if you keep your direct debit in place it will stay on the sculpture until your direct debit is cancelled.