At Home
The Hospice at Home team at Katharine House provide a rapid response service, that aim to help support people in their own homes at the end of life.
The team provides specialist palliative care: including personal care – washing, dressing changing bedding, comfort visits – toileting and pressure area care, we can sign post and liaise with other health care professionals, including District nurses and our Palliative Care Nurse Specialists to get the best outcomes for the patient and their families.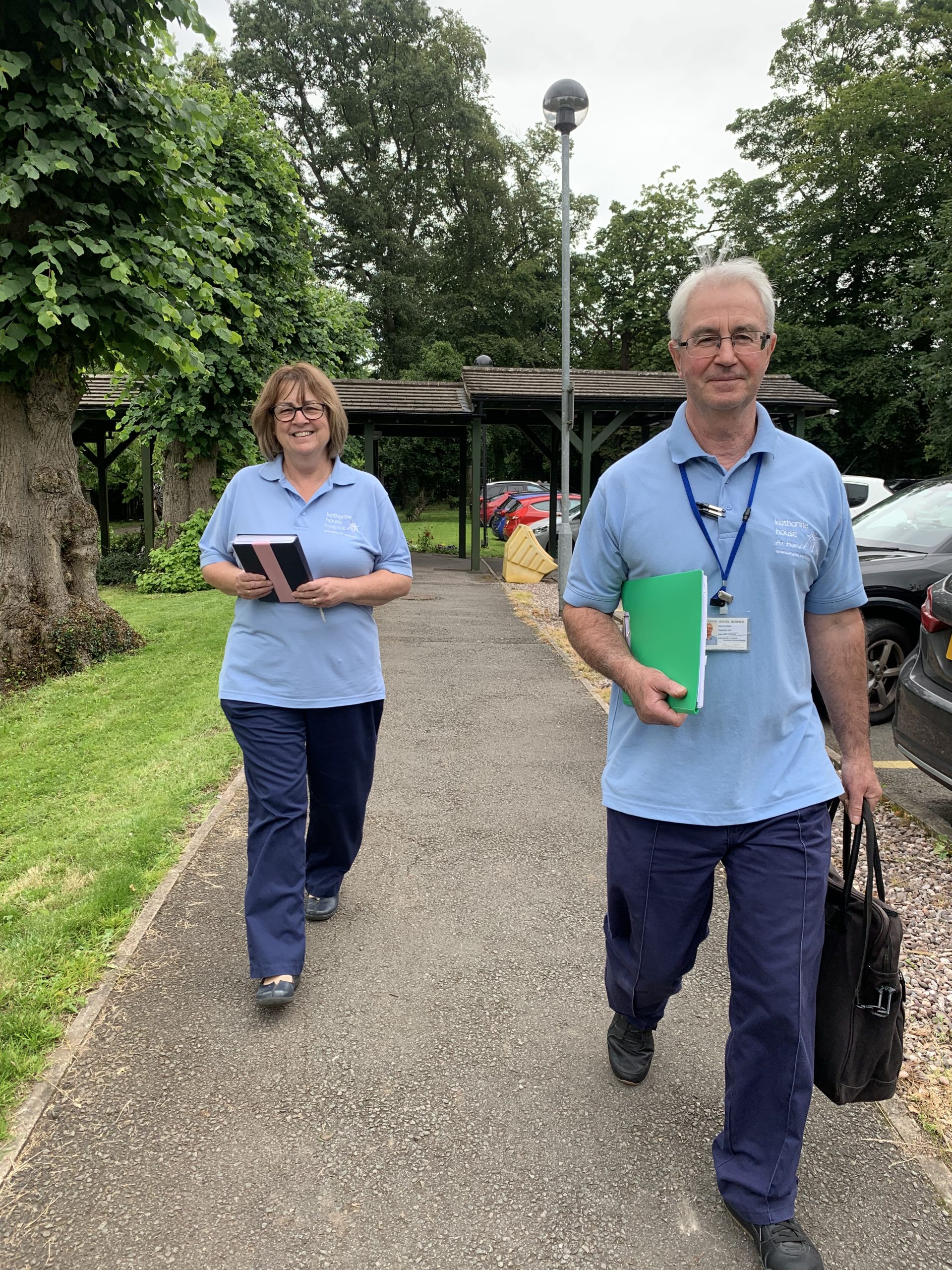 We provide respite day sits to allow family members to go out or have a rest and night sits. The service is provided over a 24 hour period and patients or their families will be contacted with times of calls prior to the visits.
Sometime things and situations can deteriorate quickly, which can leave patients and their family members struggling. The Hospice at Home Team also provide crisis support at times of change, this can often prevent a crisis admission to hospital or other care settings and enable family members or other health care professionals to sort out and put in place, a long term package of care and support.
We also support to help facilitate discharge from hospital, hospice, or other temporary care setting, there are times when patients are ready to go home from hospital but the care they need is not able to start for a few days. The Hospice at Home team will help support the patient to go home sooner and provide care until the long term care provider can commence.
Bill and Betty's story
Bill and Betty's Story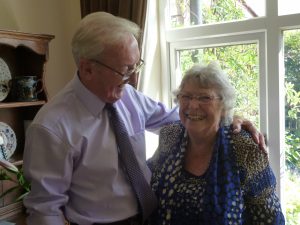 For a long time, mum and dad had managed marvellously to do most things for themselves despite dad's many debilitating ailments and them both being in their 80s. Dad's Parkinson's nurse felt mum would benefit from some respite and offered to contact Katharine House to see if there was a place for dad to attend as a day visitor. Both mum and dad were reluctant at first – for nearly 70 years they've done just about everything together so dad didn't really want to leave mum at home and anyway, wasn't this a place where people went when they were dying or, at least, very old and frail?
When he decided to give it a go, my sister took dad along for an assessment and for him to see the Centre and an initial 12 weeks of weekly day visits was offered. Dad thoroughly enjoyed the days, meeting other chaps, having a chat over a meal and even a glass of beer and participating in the activities offered. The Katharine House team were able to provide support from other services whilst dad was at the centre too and mum knew he was being well looked after.
The weekly visits continued until dad become more frail and could manage to attend fortnightly when he was well enough. Sadly, when the Covid pandemic hit all visits had to stop. Every week, without fail, a member of the KH team called mum to ask how things are, providing a warm and friendly voice; this at a time when few services have been available.
When it became clear that a personal care package was needed for dad, in order that mum could manage better, Embrace's team of carers stepped in to provide crisis care whilst we waited for the package to begin.
As dad edged towards his end of life, we had several overnight sits from KH nurses which have given reassurance to mum, my sister, brother and me, enabling us all to relax more during the dark hours.
The staff who covered the night sits gave reassurance to mum and she was able to settle at night a little better knowing a professional was at hand. The team liaised with the district nurses and care company to ensure they were aware of any action which was needed.
We hope that our story shows how KH has been more than we could've wished for. Memories of dad telling us about his lovely lunches and mum's order to us kids to make sure the biscuits are there for our night sitters will be reminisced for a good while.
Without public support this wonderful facility will struggle and we know that the Covid pandemic has caused a real financial crisis for this local charity which has made such a difference to our family.