Opportunity of a lifetime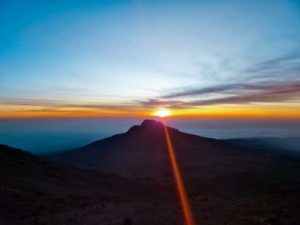 The sun rising over a blanket of fluffy cloud, and Mawenzi.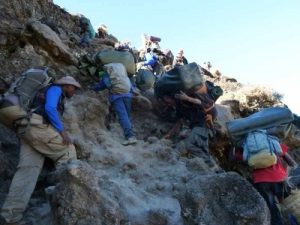 Ascending the infamous and vertigo inducing Barranco Wall.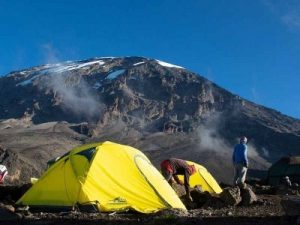 Campsite with a great view of the top of Kilimanjaro.
This Kilimanjaro Challenge is exclusive to those wishing to fundraise for us.
With a high summit success rate, it will use the Lemosho route. Close to 20,000 feet high, 'Kili' is a genuinely tough challenge but extremely rewarding.
The challenge is an eight-day and seven-night trek, with four nights spent in the acclimatisation zone.
You'll approach 'Kili' from the west side, ascending through the rainforest and high bushland before emerging onto the vast Shira Plateau. This route is  considered the prettiest route on the mountain.
Along this southern circuit of the mountain, you will encounter the unmistakable Lava Tower and the infamous Barranco Wall. The experienced team from our friends at Travel and Trek will take care of you and get you ready for that tough final ascent to the summit through the night.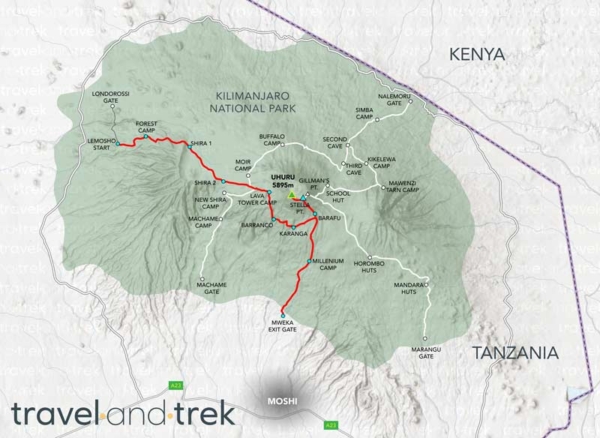 Your support matters
Get sponsored to complete your challenge and help raise funds that are crucial to the delivery of quality hospice care and support for the people of Stafford and surrounding areas. The Katharine House Hospice Fundraising Team are here to help you maximise your fundraising potential. After all, we're nothing without the support of amazing people like you.
Contact us 
Email: fundraising@khhospice.org.uk
Tel: 01785 270808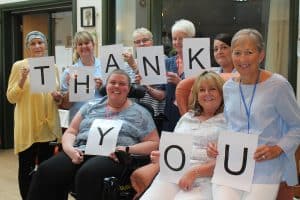 Options to suit you
Costs
Self-fund prices start at £1,900. Travel and Trek offer a variety of sponsor options so you can choose what suits you best.
Dates
If the dates advertised don't suit you then you can negotiate alternative dates directly with Travel and Trek.
Still have questions?
To find out more about the Kilimanjaro Mountain Bike Challenge, or to make an enquiry, please contact Travel and Trek.