Opportunity of a lifetime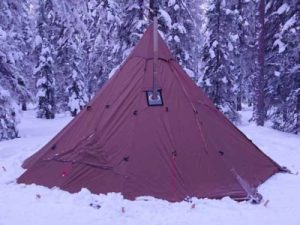 Heated teepee tents. Perfect for wilderness expeditions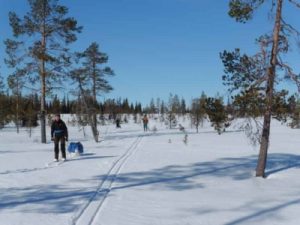 Making tracks through this glorious open winter countryside.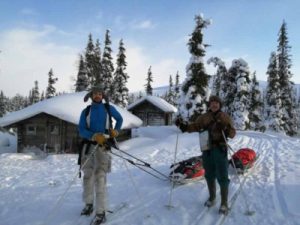 Making use of the shelters that dotted around this area.
Leisurely paced artic adventure
Introducing the Arctic Wilderness Expedition, tailor-made for beginners. No prior cross-country skiing or winter camping experience is needed, making this adventure exceptionally rare with its small group size (four–six participants).
Embark on a remarkable five-day arctic wilderness ski expedition, venturing off the beaten path deep into east Lapland, approximately 200 km inside the Arctic Circle. Experience the thrill of wild camping, spending nights in cozy heated teepee tents. Gather firewood from the pristine forest to create open fires, essential for heating food and boiling water. This expedition is perfectly suited for novices, as there's no pressure to reach fixed campsites or cover specific distances.
In true self-sufficiency fashion, each member of the group will pull a sled (pulk) loaded with approximately 30 kg of supplies and equipment throughout the expedition, ensuring self-reliance. Please note that there are no Husky support dogs on this journey. Snowmobile support is available in an emergency. As the tracks often lead through deep snow, expect a leisurely pace more akin to a shuffle than a specific skiing technique. A reasonable level of fitness is recommended to fully enjoy this adventure.
Options to suit you
Costs
Self-fund prices start at £1,900. Travel and Trek offer a variety of sponsor options so you can choose what suits you best.
Dates
If the dates advertised don't suit you then you can negotiate alternative dates directly with Travel and Trek.
Still have questions?
To find out more about the Kilimanjaro Mountain Bike Challenge, or to make an enquiry, please contact Travel and Trek.
Your support matters
Get sponsored to complete your challenge and help raise funds that are crucial to the delivery of quality hospice care and support for the people of Stafford and surrounding areas. The Katharine House Hospice Fundraising Team are here to help you maximise your fundraising potential. After all, we're nothing without the support of amazing people like you.
Contact us 
Email: fundraising@khhospice.org.uk
Tel: 01785 270808