Julie from Stafford lives with Hetty her crazy young Cavapoo dog and Caspar and Lottie her cats, she works for Slimming World and is currently rushed off her feet volunteering at her local food bank
In October, after 24 glorious married years together, Julie said farewell to her beloved husband Martin.
Here she talks about their lives together and credits Stafford's Katharine House Hospice for helping the couple spend the last year at home together creating even more memories.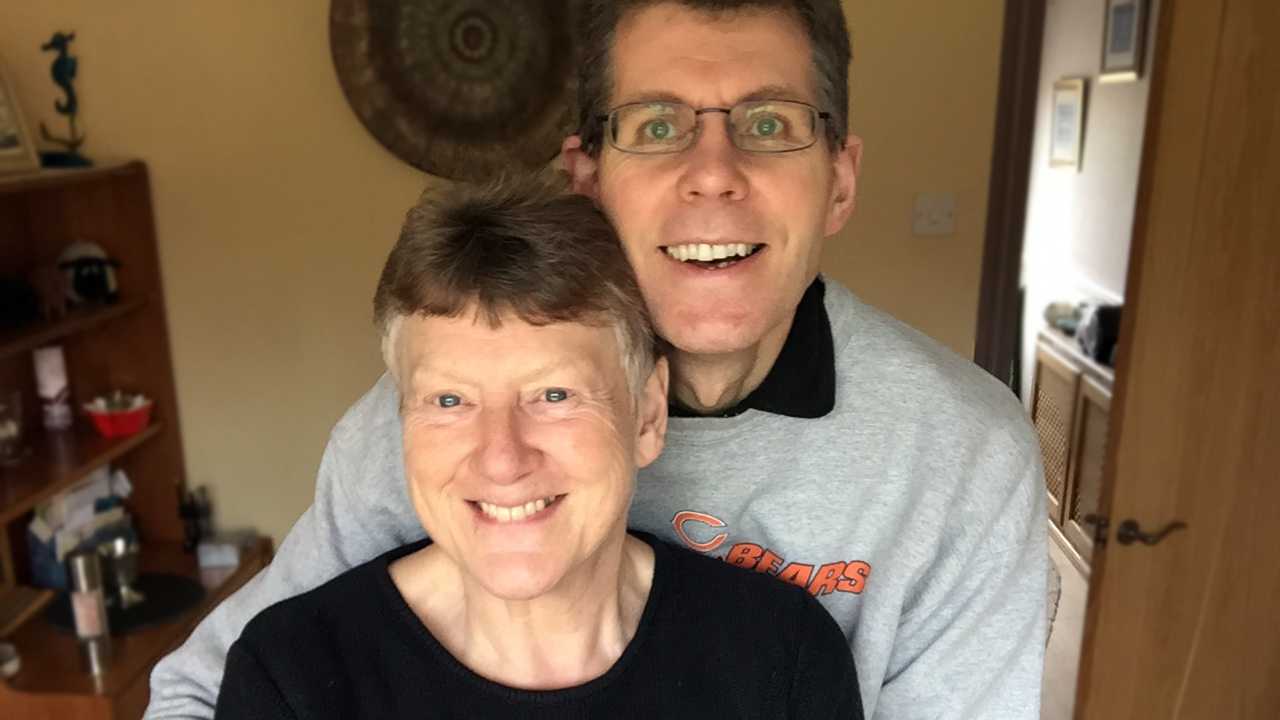 Julie met Liverpool Football Club supporter and business analyst, Martin Rickerby, in 1998 and married him a few months later.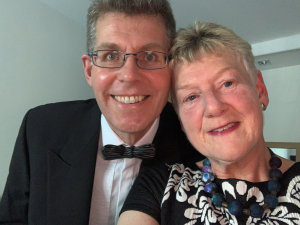 Meeting as members of the British Junior Chamber, Martin surprised Julie with a proposal in Monaco and they wed in the winter at Weston Hall in Stafford. And the romance carried on, with Martin writing poems to Julie throughout their relationship, and even when he was ill.
Read Martin's poem: Valentine's Day Number 24
The couple lived in Staffordshire and travelled the world together, as well as supporting and watching Liverpool, and the rugby team from Julie's hometown of St Helens.
Martin was President of Stafford Junior Chamber, national treasurer of the British Senate and worked for Staffordshire County Council as well as Lloyds Bank. Throughout his life Martin was dedicated to his wife and his work, still grafting away on the Friday before he died presenting the accounts at the British Senate AGM.
A fit and healthy cyclist and runner, Martin ran marathons, raised money for charity and collected presents for underprivileged children. And as someone who openly admitted struggling to put a kitchen shelf up, one of his proudest achievements was when he raised money and volunteered rebuilding houses after the tsunami in Sri Lanka.
Lives together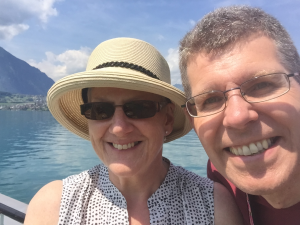 "Married life with Martin was absolutely wonderful, we spent 24 happy years together, and I couldn't have asked to be married to a nicer person," Julie says. "We loved giving back to the community and being part of the British Junior Chamber and then senators of the British Senate."
The couple went around the world together spending their first wedding anniversary in Egypt, then travelling to America, Europe, Morocco and even Iceland where they spent weeks driving round the island and battling a storm.
"Martin always researched everything thoroughly and we did all the best things," Julie adds. "We went to Jordan which was a special place to visit. My father was in the Navy submarines and he'd regale stories of Petra and when we went everything was as fascinating as he'd said. My Dad would also tell stories of when he worked in New Zealand on a Navy map which hadn't been done since Captain Cook. When we visited the country we were blown away, it was everything and more."
Martin took early retirement from the bank in 2019, got bored doing nothing and started working for the council. He was then diagnosed with cancer in 2021. A year later, in October, he died aged 54.
Diagnosis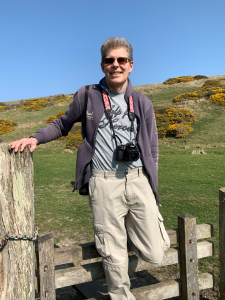 Because of COVID and other pressures on the NHS, the couple initially couldn't get an appointment, there was no face to face contact, and Martin had no symptoms apart from that it was painful to go toilet. Yet they persevered and went to the hospital for a second opinion, where they did an ultrasound, and then Martin was diagnosed the next day.
Julie says, "It was a big shock. We couldn't believe it. We were absolutely devastated. Martin was a very fit and athletic person; he was an exercise fanatic."
Even after his diagnosis, Martin created a file of walks to do together and places for them to see, and Martin would have his lunchtime walk around the village with Hetty the dog until his mobility reduced.
The couple were hopeful when Martin started chemotherapy, yet it didn't work, and then immunotherapy didn't work. Then Martin's prognosis was given.
Hospice help
The district nurse referred the couple to Katharine House Hospice for care and from there multiple teams helped the family. This included Katharine House Hospice's Embrace care team, palliative care nurses, specialist lymphoedema clinic and hospice at home team.
"Two Embrace ladies arrived to help, and a specialist hospital bed was delivered the next day so Martin could be downstairs and look out the window to our garden. Care was provided twice a day and then increased as and when we needed it," Julie says.
With the support from Katharine House Hospice, Julie and Martin had more valuable quality time together and planned and organised everything that they could. Martin was resolute that he was not going to stay in hospital and that he wanted to go home. And Katharine House Hospice granted that wish.
Julie expresses her gratitude to the teams saying, "I am so glad Martin was at home with me. We kept busy together, and he'd work, and we'd sit and chat and reminisce and look at photos of our lives, and he'd do puzzles. I am so thankful for that time together.
"And it was a pleasure having the team here to help us; they are just wonderful. I cannot praise them enough. They were so patient with Martin and got to know him so well. Everyone is so nice, with real character and personality and the patience of saints. Martin and myself really appreciated everything."
Misconceptions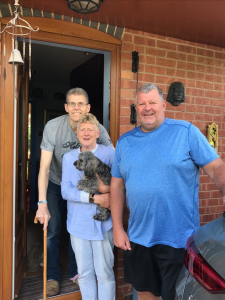 Julie and Martin first heard about Katharine House Hospice when a neighbour's family member received care and asked for donations to the charity for their 40th wedding anniversary, which they thought that was a brilliant idea.
Admitting the couple didn't know much about hospice care before they needed it, Julie adds: "We thought the hospice was the last resort – once you went into the ward you didn't come out.
"To find out that most care is given in the community and in people's houses so people can stay with their families was brilliant.
"The help we received was invaluable. Martin and I were able to have a routine and stay at home together, not go to hospital or on a hospice ward.
"And Katharine House Hospice provided respite so if I needed to go anywhere – to the shops or an appointment – carers would come in and sit with Martin. They would also cover a night so I could get much needed sleep to keep my strength up.
"We had help from different teams who were always so approachable and couldn't do enough to help and the transition between services was seamless. In such a stressful situation, this adds some peace of mind."
Not alone
When Martin's mobility reduced the couple were hugely reliant on the hospice to cope. And sometimes it was tough to get Martin comfortable, "But staff were so understanding. Everyone was always caring and considerate and patient with Martin, even when he was demanding at times.
"I didn't feel like I was on my own supporting Martin; the staff were kind and understanding, always on hand, and they felt like part of the family. The care provided was tremendous and non-judgemental, always responsive providing vital support when we needed it," Julie says.
"When Martin was dying, two of the hospice ladies were there giving extra support. I remember the moment Martin died and I could not have done it on my own."
Supporting Katharine House Hospice
"I still see some of the team in the area, and they pop by and say hello. I chatted with some of them only last week."
Julie wants to encourage others to support her local charity, saying: "The real difference the hospice team makes is that each and every person gives time to care, yet quality hospice care costs. As a couple, we supported so many different charities over the years together but with a local charity you see the difference first-hand.
"If you see opportunities to fundraise, donate or volunteer please offer your support. You never know when you or your family might need the care from Katharine House Hospice."
As a family, they have already raised £2,500, collecting at Martin's funeral and through Julie's job at Rising Brook Slimming World, who also chose the hospice as their charity for 2022 and again for 2023.
And the family will continue to represent Katharine House Hospice in sporting events to raise money as a thank you.
In February, Julie, her son David and his fiancé will head to Gozo and Malta and scatter some of Martin's ashes on the island of Gozo – which was their special place and second home. "Then David will then run the Maltese marathon raising even more funds," says Julie.
"We will carry on doing what we can to support other families who need Katharine House Hospice's care to say thank you for the difference that was made."
Valentine's Day Number 24!
It's fair to say that this last year
Has not been all that great
The two C-words have caused us angst
And made us hesitate
But we're still here and fighting on
And now good times are near
For I will soon be fighting fit
There'll be no need to fear
So let us celebrate this day
In time-honoured tradition
With doggerel as penned by me
(Ace poet my ambition)
For even though we've had it tough
Your love has e'er shone through
You've cared for me with tenderness
The cats and Hetty too
I know that I've not been much use
And moaned an awful lot
But through it all you've persevered
And grumbled you have not
So, to the future we should gaze
And it is looking bright
A chance to get away at last
For you, a nice respite
From chores and looking after pets
Some downtime which you need
To sunny Dorset we will go
And there we will be free
To go for walks and see the sights
But take some time off too
To watch some DVDs and read
It will be good for you
And lots of other trips we've planned
To places near and far
Some with the dog and some without
(If Olly plays her part!)
There's Anglesey and Jersey too
And let's hope with nice weather
Lots of day trips to NT sites
Where we can walk together
And next year we've got more things planned
In places new and old
Around the country we will roam
And new sights we'll behold
And after that, if all goes well,
And flying is a goer
Further afield we can look
(But maybe not Samoa!)
But into Europe we can go
Cos there's so much to do
Spain and Greece and also France
And lots of others too
But back to you as you should be
The main topic of this ditty
The way you've coped with everything
With no hint of self-pity
Is truly inspirational
And makes me love you so
I think that you're sensational
And this much you should know
I'm so thankful that you're my wife
And here to care for me
Without you always in my life
I don't know where I'd be
You're strong and you are resolute
In everything you do
In you my faith is absolute
I trust you through and through
Despite what's piled upon your plate
You've come through every test
You've persevered through all my woes
You really are the best
I'm sorry for the days on which
I've complained all the time
The way you've coped with all my gripes
Has really been sublime
So, all that's left for me to say
Is thank you for all you do
And have a super Valentine's Day
With all my love to you.
~ Written by Martin Rickerby