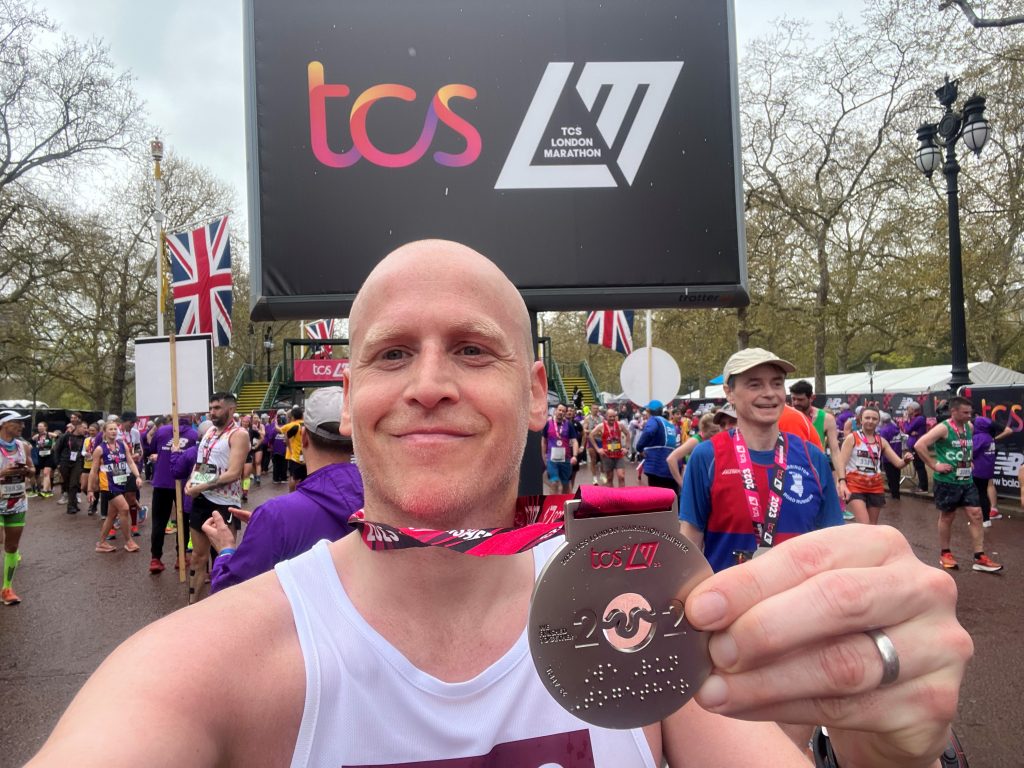 With the London Marathon 2023 complete and entries for 2024 closing, we've spoken with a runner who took on the 26.2 mile challenge this year to raise funds for us.
James Roberts, who works for Extramile Digital in Stone, got a new personal best and was able to donate more than £1,500 by running the iconic road race.
With his company already choosing to support our hospice as one of our Business Buddies, James said it was a 'no brainer' to run for our charity.
He explained: "I've always wanted to run the London Marathon since I started running about eight years or so ago. I've entered the ballot year after year and this year I was lucky enough to get in.
"It was then a no brainer to raise money for Katharine House Hospice through it."
Charity of choice
When asked why Extramile Digital decided on our charity, James said: "All of us at Extramile Digital really wanted to raise money for a local charity, and Katharine House Hospice is such an amazing charity.
"We've set ourselves a target this year of raising enough money to pay for the hospice for one day, so £6,000. We're not that far from that total now, which is great."
The 44-year-old from Stafford has also had experience with our services: "On a personal level, Katharine House Hospice have been there to help support my own family, friends and colleagues at the toughest of times.
"The London Marathon felt like a great opportunity to raise money for them."
No stranger to marathons
This was the third marathon that James had taken part in, having already completed the Manchester and Tissington Trail marathons.
The Sales & Marketing Director added: "I really enjoy running, it's great exercise for both your physical and mental health. We're very lucky living in Stafford too as there are so many varied places to go for a run and we've got some great events like Stafford 10k and half marathon."
For James the London Marathon was an event to remember: "I can't really put into words how fantastic the experience was. I loved every minute of it, even the last few miles when it was getting a bit tough.
"I was in a bit of a rush when I got there as the train I was on was delayed near the start. The event was so well organised though, it was easy to find your starting area and drop your bag off etc.
"It was raining quite heavily for the first hour and a half and then the sun came out a little after that.
"My wife was eight months pregnant at the time but still came down to watch me at mile 17, I saw her and my daughter shouting and waving to support.
"What an experience though, the training was all worth it as I got a new personal best time of three hours 21 minutes so I was over the moon with that."
"Just go for it, you won't regret it"
With the help of friends and colleagues, James managed to raise £1,538.96 in sponsorship for the run.
He said: "I'm really pleased with that. If anyone gets the opportunity to run for Katharine House Hospice just go for it, you won't regret it for a moment.
"Running the London Marathon is something I'll never forget and is certainly one of the highlights of my life!
"If you are lucky enough to get in through the ballot then you can still help by raising money for a charity."
Apply for a charity place in the London Marathon or other running events today.