Bin the booze this January to give yourself a boost and help the people of Mid-Staffordshire who are in need of hospice care and support.
Dry January benefits
According to Alcohol Change, out of previous participants:
86% save money
70% experience better sleep
66% have more energy.
So, while a tipple may seem tempting in the cold days of January, a break from alcohol could be the best treat you could give yourself.
Go dry for Katharine House
If you would like to support us then thank you! There are two ways you can help us by choosing to go dry this January.
Get sponsored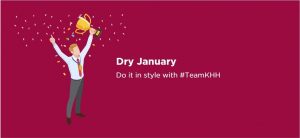 Need extra motivation? Why not tell your friends and family that you're going alcohol free and ask them to sponsor you?
Visit our Dry January fundraising space, register, and an online fundraising page will be created for you automatically.
Donate your savings
Put the money you would otherwise spend on alcohol to one side.
Count up your savings at the end of the month.
Decide how much of your savings you can spare.
Send us your donation and we'll put it to good use!
Other ways to send a donation