Palliative nursing specialist highly commended in Dignity in Care Awards
19 July 2023 | View all news
Our Palliative Nursing Care Specialist team leader, Rachel Agar, received a Dignity in Care award at a glittering ceremony on Tuesday 18 July.
Nominated by two families she cares for, Rachel received a highly commended Community Service Dignity Champion honour.
The awards are run by Staffordshire County Council and over 70 people gathered to celebrate with families, carers, charitable organisations and community groups.
The annual Dignity in Care Awards recognise care services, teams and individuals who put dignity, respect and quality care at the heart of everything they do.
Nursing for almost 30 years, Rachel is a highly trained specialist nurse providing real expertise and the highest level of excellence in palliative care.
She has been working for Katharine House Hospice for seven years.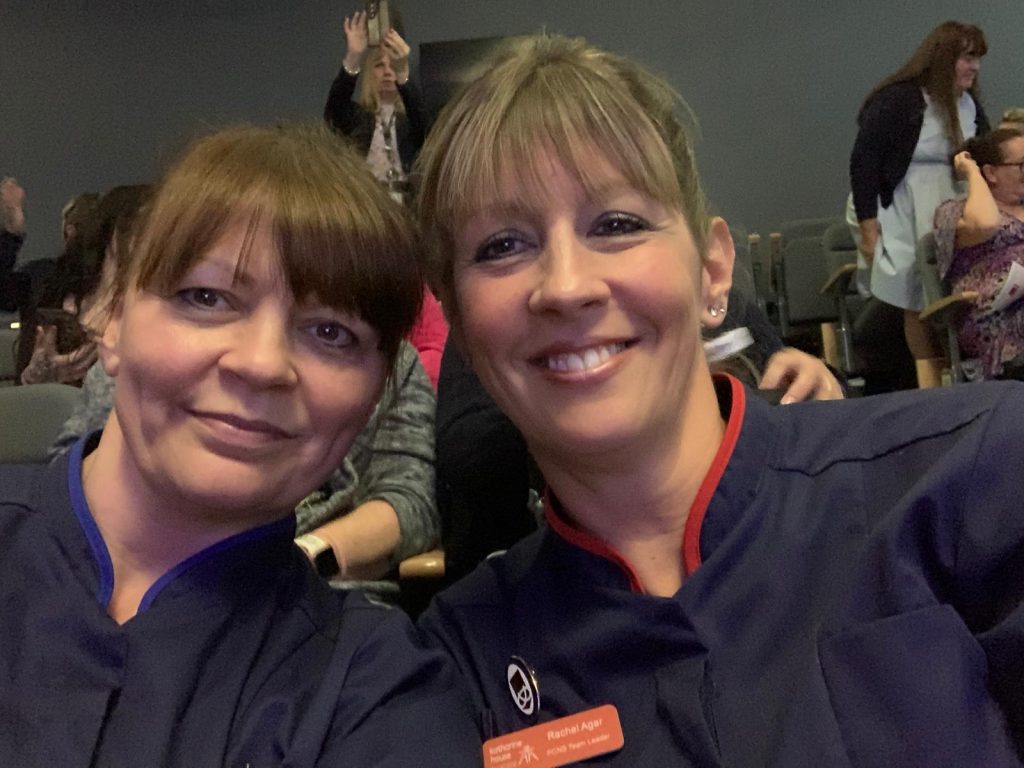 Previously, Rachel was a Macmillan nurse specialist, a district nurse in the community and an oncology sister at Midlands Partnership NHS Foundation Trust for 15 years.
She said: "I was overwhelmed to be nominated by the families I support. It means so much because my team and I work so hard every day to make a difference.
"It is a real privilege to work with our community and the families we care for. Our small team of seven has 180 years' experience so we provide the very best in palliative care when families are going through pure devastation.
"I came into palliative nursing because my mum had an excellent palliative nurse and I saw the difference they made. At the time, I had a nursing diploma so had to study for a palliative nursing degree on top of it. I haven't looked back.
Putting compassion and dignity at the heart of care
Julia Jessel, Cabinet Member for Health and Care at Staffordshire County Council who presented some of the awards said: "This is one of my favourite events of the year.
"Not only do the awards give us the chance to showcase the care sector but it's a great opportunity to thank and celebrate everyone working in care whether informally or formally.
"Putting compassion and dignity at the heart of care is so important, and here in Staffordshire we do everything we can to support carers to be able to do that every day.  People working in social care are caring, ambitious people.  They look after our nearest and dearest and make a difference every day.  Working in care is incredibly rewarding and there are lots of vacancies right across the county. There's training and qualifications you can take, and lots of opportunities for professional development and career progression.
"Once again, I would like to say a huge well done to everyone at the event and particularly to our winners and highly commended."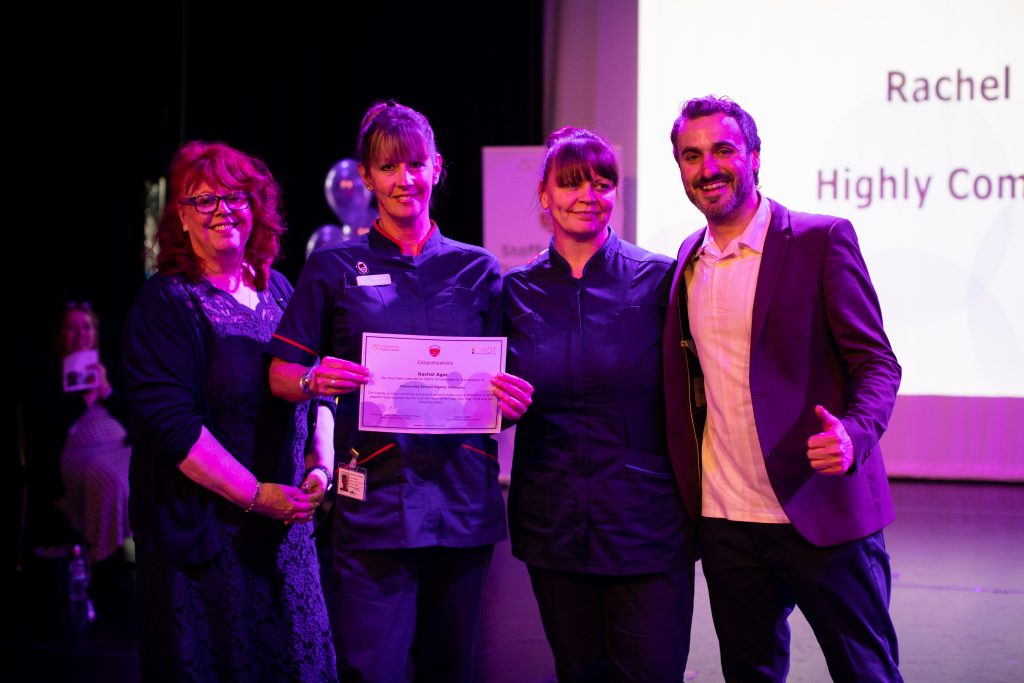 "Dignity in Care is the most important thing for our patients and their loved ones.
Rachel added: "I love my job. At Katharine House Hospice we provide personalised care and get to know patients by building relationships and trust.
"My team is there to support them, coordinate with other services and provide that continuity in care which is needed. We are the familiar face that the family sees.
"We provide comforting care as well as providing symptom management like prescribing palliative medicines. Our team is innovative and always finds ways to provide the care that is needed.
"From September, the community and health care professionals can access our palliative care nursing specialist team seven days a week through our advice phone line.
"It is amazing considering we are a charity. We can't wait to support more families who need our care."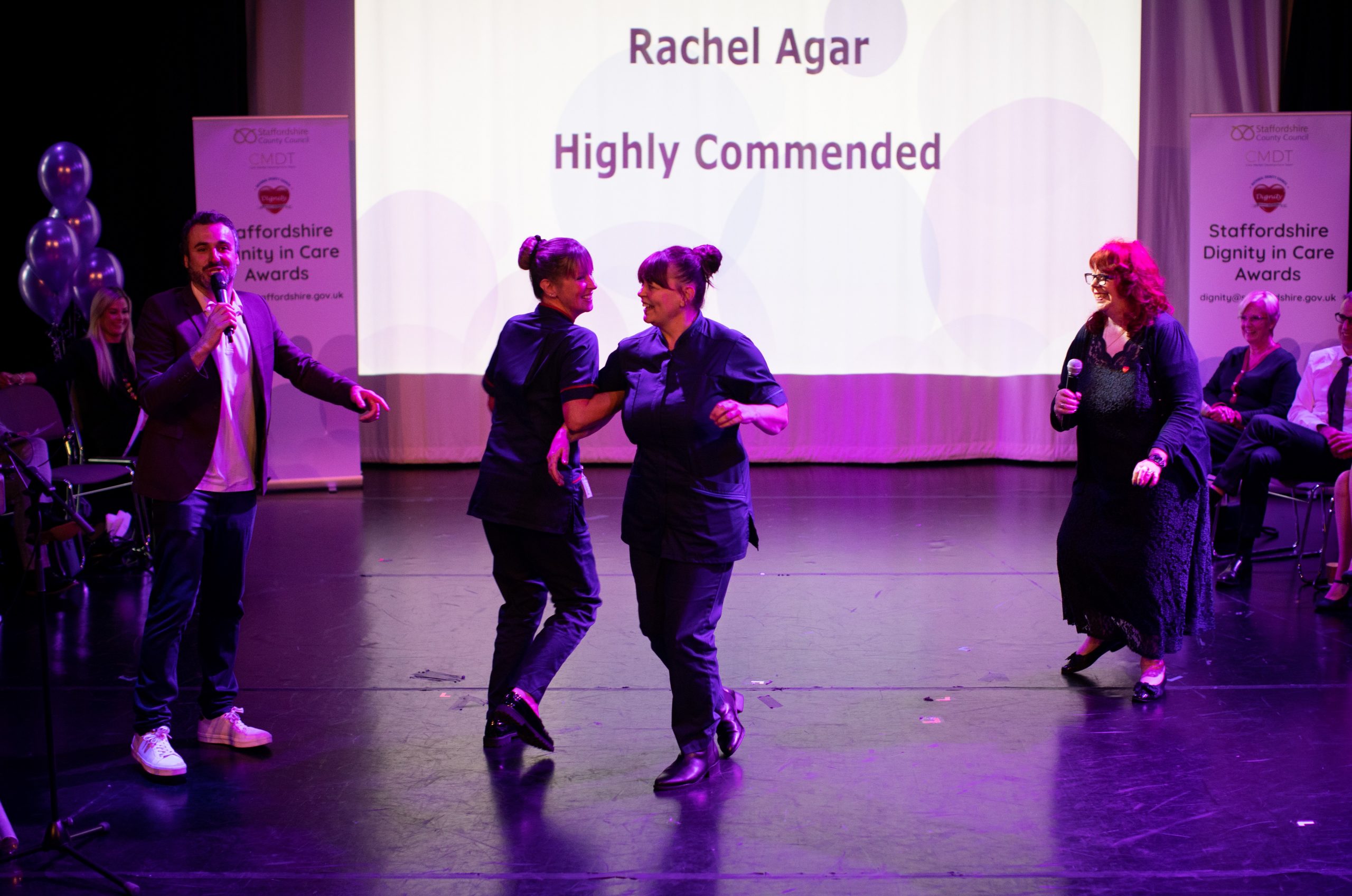 Incredibly proud
Katharine House Hospice Director of Care, David Fletcher, said: "Everybody at our charity is incredibly proud of Rachel and delighted that her great work is recognised by the community.
"Our Palliative Nursing Care Specialist team delivers a wonderful service to the patients of Staffordshire and strives to ensure patients at the end of life get the very best care and treatment at home.
"We are excited to extend our advice line to seven days in September which will increase the level of support we offer to the NHS and community directly."