Experience two environmental extremes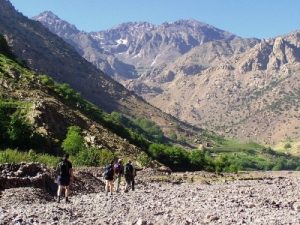 Heading into the High Atlas mountains for the Toubkal ascent.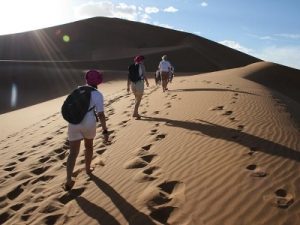 The vast sands of the Sahara Desert, and the high temperatures.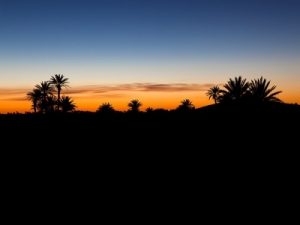 The glorious golden sunsets experienced in the Sahara.
A unique challenge
Discover a truly unique adventure, exclusive to Katharine House, that allows you to embrace the remarkable extremes of nature in a short span. This extraordinary journey seamlessly transitions from the lofty heights of North Africa's highest peak, Mt Toubkal, to the scorching expanses of the Sahara Desert; a transition involving a drop in altitude of over 12,000 feet and a potential temperature change of approx 40°C, all within 48 hrs.
Having arrived in Marrakech, you'll embark on a two-day mountain trek to conquer the summit of Mt Toubkal, standing at 4,167 meters (13,665 feet). The descent to Lac D'Ifni is swift, followed by a comfortable vehicle transfer through Ouarzazate and the enchanting Draa Valley, transporting you to the vast Sahara Desert in approximately six hours. The transformation in surroundings will captivate your senses, as rugged mountain terrain gives way to an expansive, tranquil, and sizzling desert landscape.
This phase of the journey offers an extended opportunity to immerse yourself in the desert's beauty, eventually leading you to Erg Zaher, the highest dune in the region. Experience the minimalist charm of this remote desert environment while relishing the warm hospitality of your Berber hosts.
Upon completing this unforgettable trek, you'll relish a well-deserved hot shower and an overnight stay in Ouarzazate before returning to explore the vibrant city of Marrakech, your senses enriched by this exceptional odyssey.
Your support matters
Get sponsored to complete your challenge and help raise funds that are crucial to the delivery of quality hospice care and support for the people of Stafford and surrounding areas. Our Fundraising team are here to help you maximise your fundraising potential. After all, we're nothing without the support of amazing people like you.
Contact us 
Email: fundraising@khhospice.org.uk
Tel: 01785 270808