Raise a drink to her Majesty and raise funds for your hospice
This June, communities from all over the United Kingdom, will come together to celebrate HRH Queen Elizabeth's 70th year of service.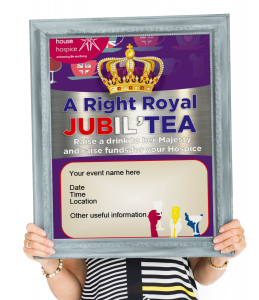 Her Majesty the Queen will become the first British Monarch to celebrate a Platinum Jubilee, a truly momentous occasion and worthy of a right royal Jubil'tea!
What better reason to get your friends, family, work colleagues, group members and, for that matter,  anyone you know together and celebrate in whatever way you choose while raising much needed funds to provide patient care at the Hospice?
Whether a more traditional tea party, a bubblier version, BBQ, cake sale or a full blown street party, however you choose to celebrate and come together, it will raise vital funds for the local people who need the services of Katharine House Hospice.
We would love to hear about your event. Let us know and we will support you as much as we can and share your celebrations on our social media pages.
Download your fundraising pack
Decide on the type of event or fundraising activity you would like to run.
Pick your date and time.
Let everyone know about your fabulous celebration fundraiser.
How to fundraise online
You can set up a fundraising page by visiting www.khhospice.enthuse.com and clicking on the 'Fundraise for us' button. Or you can use a fundraising website of your choice.
Did you know that fundraising pages with a photo, fundraising target and event details are more successful than pages that are left with the content that the fundraising site suggests? Be sure to give your page that personal touch.
The money you raise will come directly to us. Thank you!
Promoting your Jubil'tea
Tell everyone and SHARE, SHARE, SHARE! Add it to your Facebook, Twitter, Instagram, LinkedIn TikTok, WhatsApp, emails,  however you can. If you are fundraising online, be sure to share the link to your fundraising page.